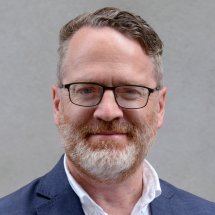 John Wayne Kaufman
Associate Professor
Early Christian Studies and the History of Theology
Office: 341
Phone number: 22590626
Professional competence areas:
Early Christianity
History of theology
Christian denominations
Historical method
History as a theological discipline
My primary research area is early Christianity, with a concentration on the second and third centuries. My PhD dissertation was on the understanding of salvation as deification in the theology of Irenaeus of Lyons, and my recent research has continued to be focused on Irenaeus. My teaching responsibilities have for the most part been concentrated in the following areas: early Christianity in the Roman Empire; history of theology; the study of Christian denominations, both historical and contemporary; historical method; and the role of historical studies within the framework of the study of theology.
Selected publications
Latest academic publications
Education and practice

2012 - d.d.
Førsteamanuensis, MF / Associate professor, MF

2009 - 2012
Rådgiver, Presteforeningen

2009
PhD i teologihistorie, MF

2004 - 2008
Stipendiat ved MF

2002
Timelærer i kirkehistorie, MF

2001 - 2003
Cand.theol., MF

1999 - 2001
Cand.philol. UiO - Idéhistorie hovedfag

1995 - 1998
Cand.mag. UiO - Tysk, Kristendom, Idéhistorie
Voluntary position

2017 - 2020
Avdelingsleder, Avdeling for teologi og kirkelig utdanning, MF / Department head, Department of theology and ministry, MF

2014 - 2018
Styremedlem, MF / Board member, MF

2013 - 2017
Avdelingsleder, Avdeling for teologi og historie, MF / Department head, Department of theology and History, MF