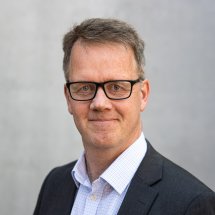 Kjetil Fretheim
Pro-Rector/Professor
Ethics and Diaconal Studies
Office: 351A
Phone number: 22590625
Professional competence areas:
Diaconal studies
Public theology
Intercultural communication
Religion and development
Ethics
I am professor and prorector at MF. My research interests are diakonia, ethics and public theology, as well as religion and development, intercultural communication and empirical church research. I have taught in all these fields at BA, MA and PhD levels. I have supervised several MA and PhD students and I am involved in different international research networks.
Selected publications
Latest academic publications
Education and practice

2021 - 2022
Visiting professor, University of Chester, UK

2014 - 2015
Visiting professor, York St. John University, UK

2013 - d.d.
Professor, diakoni og etikk, MF

2009 - 2013
Førsteamanuensis, samfunnsfag, MF

2008 - 2009
Seniorforsker/forskningsleder, SIK

2007
PhD, MF

2004 - 2007
Stipendiat, MF

2003
Kvalifiseringsstipendiat, SUM UiO

2000 - 2003
Førstekonsulent/seksjonsleder, KN

2000
Høgskolelektor (timelærer), HiST

2000
Internasjonal valgobservasjon (5 v.t.), UiB

2000
Formidling og læring (10 v.t.), NTNU

1999
Historie mellomfag, UiO

1998 - 2000
Utdanningskonsulent, PF

1997 - 1998
Vernepliktig stasjonsprest, Luftforsvaret

1997
Praktisk teologisk seminar, MF

1996
Sosialantropologi mellomfag, UiO

1996
Cand.theol., MF
Voluntary position

2022 - d.d.
Styremedlem, Kirkens Nødhjelp (KN)

2022 - d.d.
Styremedlem, Universitets- og høgskolerådet (UHR)

2021 - d.d.
Medlem, Project panel on Theology and Religion Sciences (FWO, Belgia)

2021 - d.d.
Medlem, Menneskerettighetsutvalget, Den norske kirke

2018 - 2021
Medlem av bispemøtets teologiske fagråd

2018 - d.d.
Medlem av Nasjonalt utvalg for vurdering av forskning på menneskelige levninger (Skjelettutvalget)

2018 - d.d.
Medlem av Forskningsetisk utvalg i VID

2018 - d.d.
Medlem av Den nasjonale forskningsetiske komiteen for samfunnsvitenskap og humaniora (NESH)

2012 - 2017
Medlem i Regional etisk komite for medisinsk og helsefaglig forskning REK Sør-Øst B

2010 - 2013
Leder for Komiteen for internasjonale spørsmål (KISP) under Mellomkirkelig Råd

2006 - 2010
Medlem av Executive Committee, World Alliance of YMCAs

2005 - 2008
Nemndsmedlem, Utlendingsnemnda

2004 - 2007
Varamedlem i Komiteen for internasjonale spørsmål (KISP) under Mellomkirkelig Råd