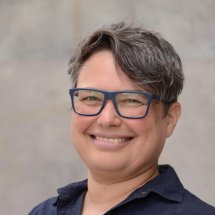 Marion Grau
Professor
Systematic Theology, Ecumenism, and Missiology
Office: 332
Phone number: 22590554
Professional competence areas:
Constructive Theology
Systematic Theology
Missiology and Mission Studies
I am a theologian working with the resources of ecumenical Christian traditions. My research interests are questions of salvation, liberation, and transformation: economic structures and metaphors of salvation, mission between colonial and indigenous theologies, a postcolonial hermeneutics, reconstructing pilgrimage, and most recently climate justice.
For the decade of 2022 to 2032, I am focusing my research and teaching on the climate crisis; more specifically theology and climate justice, theories of climate action, climate psychology, and energy transition.
Current research: critical readings of Norwegian, US, and Canadian Petrocultures within the 'Translatability of Oil' project funded by the Norwegian Research Council; and a research grant to work on climate psychology, climate action and political psychology at the Center for Theological Inquriy in Princeton, USA in 2023 and 2024.
I work using a constructive theological method which focuses on engaging the roots of Christian and other religious traditions, with the help of several interdisciplinary methods.
Latest academic publications
Research projects
Education and practice

2015 - d.d.
Professor, Systematisk teologi og missiologi, Det teologiske Menighetsfakultetet

2006 - 2015
Associate Professor of Theology, CDSP/Graduate Theological Union, USA

2001 - 2006
Assistant Professor of Theology, CDSP/Graduate Theological Union, USA

2001
Ph.D. Theological and Religious Studies, Drew University, USA

1997
Erstes Staatsexamen Ev. Theologie und Englisch, Universität Tübingen
Voluntary position

2015 - d.d.
Editorial committee Norsk missiologisk tidsskrift

2015 - d.d.
Editorial committee Global Christianity Studies

2014 - d.d.
Co-chair, AAR Group Bible, Theology, and Postmodernity

2012 - d.d.
Member of the Appointments and Review Committee advising the Academic Dean of the Graduate Theological Union

2009 - 2015
CDSP Representative on the GTU Library Committee, Fall

2009 - d.d.
Area Convenor of the Systematic and Philosophical Theology Doctoral Area, Graduate Theological Union, Fall Spring

2006 - d.d.
Chair of the Women's Studies in Religion Program Steering Committee, Fall Fall

2005 - 2007
Member of the Faculty Council of the GTU, Spring (Advises the Academic Dean of the GTU)

2005 - d.d.
Member of the GTU Board of Trustees, Management and Finance Committee, Fall Fall

2004 - 2015
Member of the Interdisciplinary Studies Area Faculty

2004 - 2015
Member of the Core Doctoral Faculty, Gradutate Theological Union

2001 - 2015
Member of the Systematic and Philosophical Theology Area Consortial Faculty

2001 - d.d.
Member, Society of Anglican and Lutheran, Theology

1997 - d.d.
Member, Society of Biblical Literature

1997 - d.d.
Member, American Academy of Religion

0
Member, Deutsche Gesellschaft für Religionsphilosophie

0
Member, European Society for Women in Theology and Religion – ESWTR

0
Member, The European Society for Intercultural Theology and Interreligious Studies - ESITIS

0
Member, Yale-Edinburgh Group on the History of the Missionary Movement and World Christianity

0
Member, Constructive Theology Group