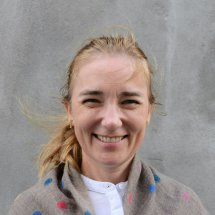 Hege Cathrine Finholt
Associate Professor/Senior Adviser
Philosophy and Ethics
Office: 366
Phone number: 22590632
Professional competence areas:
Applied Ethics
Philosophy of law
Feminism
Political Philosophy
Hege Cath Finholt holds a PhD in philosophy from Boston University (2011). Her dissertation was entitled "The Sovereign Nation-State - A Reconsideration in light of European Integration", and it was supervised by professor of Law and Philosophy Hugh Baxter and professor of International Relations Vivien Schmidt. Finholt's main areas of interest are political philosophy, applied ethics, philosophy of law and feminism.
Finholt have previously taught at Boston University, Boston College, University of Massachusetts, University of Toronto, Lillehammer University College, and the University of Oslo. At MF she teaches at both the undergraduate level and the master level in topics on feminism, social sciences, and philosophy.
Selected publications
Latest academic publications

View all publications on the Cristin website...

Finholt, H. C. (2023). Stereotype threats, Gender Diversity, Equity, and Inclusion in Academia A Conceptual Framework for Sustainable Transformation,, Routledge, ISBN: 9781032426389
Finholt, H. C. (2022). International Human Rights Protections Find Support in Hobbes' Leviathan, Philosophies, s. - . Philosophies, ISSN: 2409-9287
Education and practice

2020 - d.d.
Associate professor, Norwegian school of theology, religion and society

2017 - 2020
Senior advisor for the Regional committees for medical and health research ethics

2014 - 2017
Associate professor of teaching, Unviersity of Oslo

2013 - 2014
Associate professor, Lillehammer University College

2012 - 2013
Post-doctoral fellow, University of Toronto

2011 - 2012
Part-time faculty Unviersity of Massachusetts, Boston

2011 - 2012
Part-time faculty Boston College

0 - 2011
PhD Philosophy, Boston University

0 - 2002
Master of philosophy, University of Oslo (Hovedfag)
Voluntary position

2016 - 2017
Valgt medlem av universitetsstyret, UiO

2015 - 2016
Valgt vara-medlem til fakultetsstyret, HF, UiO

2006 - 2008
Elected co-president of the graduate student organization at the philosophy department, Boston University