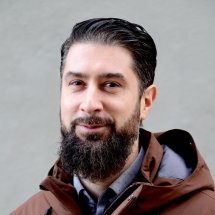 Sami Al Daghistani
Postdoctoral Fellow
Islamic Studies
Office: 369
Phone number: 22590659
Professional competence areas:
Islamic Studies
Islamic Intellectual History
Islamic Ethics
Economic Thought in Islamic Tradition
Environmental Thought in Islamic Tradition
Islam and Modernity
Sami Al-Daghistani (PhD, 2017, Islamic Studies, Leiden University, co-supervision at Columbia University) is a Postdoctoral Fellow at the Norwegian School of Theology, Religion and Society, an Associate Faculty at the Brooklyn Institute for Social Research, and a Research Scholar at the Middle East Institute, Columbia University. His teaching and research focus on Islamic intellectual history, the intersection of economics, environment and ethics, as well as on Islam and modernity. Sami's project explores the concept of sustainability in Islamic thought.
Sami has edited two books on the Second Gulf War (2010) and on Middle Eastern culture (2013), and translated to Slovenian Ibn Baṭṭūṭa's Riḥla and Ibn Ṭufayl's Ḥayy ibn Yaqẓān. His recent publications are Abū Ḥāmid al-Ghazālī's Ethical Teachings: Economics of Happiness (Anthem Press, 2021), The Making of Islamic Economic Thought (Cambridge University Press, 2021), and Pluralism in Emergenc(i)es (Review of Middle East Studies, 2021). In 2021, he launched a research group Critical Islamic Studies (https://www.mf.no/en/node/4508).
Selected publications
Latest academic publications
Research projects
Education and practice

2023
Visiting Researcher, Department of Islamic Studies, Istanbul University, Türkiye

2020 - d.d.
Postdoctoral Fellow, Norwegian School of Theology, Religion and Society, Oslo

2019 - d.d.
Associate Faculty Member, Brooklyn Institute for Social Research (BISR), New York City, USA

2019 - d.d.
Research Scholar, Middle East Institute (MEI), Columbia University, New York City, USA

2017 - 2019
Research Scholar, Institute for Religion, Culture and Public Life (IRCPL), Columbia University, New York City, USA

2017 - 2018
Research Fellow and Lecturer, IKOS, University of Oslo

2015 - 2017
Visiting Scholar, MESAAS and IRCPL, Columbia University, New York City, USA

2014 - 2015
Lecturer, Leiden University Center for the Study of Religion (LUCSoR), Leiden University

2014
PhD Graduate Exchange, Institute of Islamic Studies, McGill University, Montreal, Canada

2013 - 2017
Double PhD (Co-tutelle), Islamic Studies, Leiden University, co-supervision at Columbia University, WWU Münster

2012
Modern Standard Arabic, Université Mohammed V Souissi, Rabat, Morocco

2011 - 2013
Research MA, Middle Eastern Studies, Leiden University

2011
Modern Standard Arabic, Merkaz Dawd, Cairo, Egypt

2010
Islamic Studies, Faculty of Islamic Studies, University of Sarajevo

2007 - 2008
Erasmus Exchange, Faculty of Social Sciences and Humanities, Utrecht University

2005 - 2011
BA Double-mayor, Comparative Literature and Literary Theory, and Sociology of Culture, University of Ljubljana
Voluntary position

2022 - d.d.
Reviewer for American Journal of Islam and Society (AJIS)

2022 - d.d.
Reviewer for Handbook of Islamic Ethics, Routledge

2020 - d.d.
Reviewer for Journal for Islamic Ethics, Brill

2020 - d.d.
Member of the Society for the Study of Muslim Ethics (SSME)

2019
Conference co-organizer, "Populist Power, Faith, and Precarity in Europe", IRCPL, Columbia University | Paris

2019
Project Director, "Religion, Environment, and Economic Traditions – Refining an Epistemology of Moral Accountability," Institute for Religion, Culture, and Public Life (IRCPL), Columbia University, New York

2019
Conference co-organizer, "Untangling Popular Power: Rhetoric, Faith, and Social Order in the Middle East", IRCPL, Columbia University, Columbia Global Center | Amman

2019
Member of the International Scientific Studies Association (ILEM) Summer School Organizing Committee, Istanbul, Turkey

2018
Conference co-organizer, "Pluralism in Emergenc(i)es: Movement, Space, and Religious Difference," IRCPL, Columbia University, Columbia Global Center | Tunis

2018 - d.d.
Member of the Nordic Society for Middle Eastern Studies – NSMES

2018 - d.d.
Member of the Middle East Studies Association – MESA

2018
Member of the American Academy of Religion – AARWR

2018
Reviewer for Journal of the American Academy of Religion, Oxford University Press

2018
Reviewer for international double-blind peer-reviewed research journal Islamic Studies, Islamic Research Institute, International Islamic University, Islamabad

2017 - 2018
Conference co-organizer, "Pluralism in Emergenc(i)es: Movement, Space, and Religious Difference," IRCPL, Columbia University and Columbia Global Center | Amman, Jordan

2017
Conference co-organizer "Religion II: Dynamics, Processes, and Change", Visiting scholars conference, Institute for Religion, Culture, and Public Life (IRCPL), Columbia University

2016
Reviewer for the interdisciplinary journal of social sciences Theory and Praxis, University of Ljubljana

2015
Reviewer for the International Journal for the Semiotics of Law - Revue internationale de Sémiotique juridique, Springer Publication

2012 - d.d.
Member of Leiden University Centre for the Study of Islam and Society – LUCIS

2012 - d.d.
Junior Member of the Netherlands Interuniversity School for Islamic Studies – NISIS

2011 - 2016
Founder and President of the Middle Eastern and Islamic Studies Association Hikma, Leiden, The Netherlands

2011 - 2012
Member of the Educational Committee, Faculty of Humanities, Leiden University