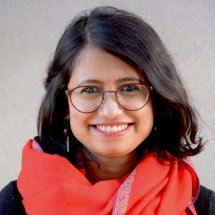 Moumita Sen
Associate Professor
Cultural Studies
Office: 473
Phone number: 22590547
Professional competence areas:
Visual Studies
Indian Political Culture
Moumita Sen is an Associate Professor of Culture Studies and project lead for 'Mythopolitics in South Asia´, RCN researcher project 2020-24 (https://mythopolitics.mf.no). Her forthcoming monograph The Mahishasur Movement in India: Caste, Religion, and Politics is based on her postdoctoral research which focuses on the intersection of aesthetic discourse, popular religiosity, and organized politics in caste activism India. Her larger research interest is in the field of Indian visual culture. Her doctoral dissertation (2016), received the Norwegian king's gold medal for outstanding research in 2017. She is the co-editor of Nine Nights of the Goddess: The Navaratri Festival in South Asia (SUNY, 2018). Sen is a founder member of the popular research platform and collective 'Theory from the Margins' (https://theoryfromthemargins.com).
Selected publications
Latest academic publications
Research projects
Education and practice

2016 - 2020
Postdoctoral Fellow at the Department of Cultural Studies and Oriental Languages, University of Oslo

2012 - 2016
Doctoral Fellow at the Department of Cultural Studies and Oriental Languages, University of Oslo

2009 - 2011
M Phil at the Centre for Studies in Social Sciences, Calcutta

2007 - 2009
MA at the School of Arts and Aesthetics, Jawaharlal Nehru University, New Delhi

0