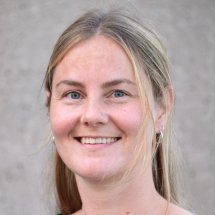 Silje Lyngar Einarsen
Postdoctoral Fellow
Study of Religion
Office: 478A
Phone number: 22590579
Professional competence areas:
South Asia
Sanskrit, Hindi
Hindu nationalism
Shaktism, yoga, tantra
Festival culture
Hindu myths
Ethnographic methods
Silje Lyngar Einarsen is a postdoctoral fellow on the project Mythopolitics in South Asia. She works at the intersection of classical Indology and contemporary South Asia studies. She is interested in the relationship between textual worldviews and lived religion and the role of Sanskrit in India historically and today. Her research interests also include Hindu Goddess traditions and the history of yoga, which she has worked extensively on as co-manager of the Shakta Traditions research programme at the Oxford Center for Hindu Studies. She is co-author of a Danish standard introduction to Hinduism and a new translation of the Hathapradipika.
Selected publications
Latest academic publications
Research projects
Education and practice

2020
PhD, Religionsvitenskap, Århus Universitet

2020 - d.d.
Postdoktor, 'Mythopolitics in South Asia', Norges forskningsråd 303378, MF

2018 - 2020
Universitetslektor i RLE, Institutt for grunnskole- og faglærerutdanning, Oslomet

2016 - 2018
Høgskolelektor i RLE, Institutt for barnehagelærerutdanning, HiOA

2014 - 2015
Hindistudier, UiO

2014
MA, Religionsvitenskap m/ sanskrit, Aarhus Universitet

2010
Hindistudier, Mussoorie, India

2009 - 2010
Frivillig bistands-/utviklingsarbeid, India og Sri Lanka

2009
BA, Religionsstudier med buddhismefordypning og sanskrit, UiO

2008 - 2011
Formidler i utstillingen 'Våre hellige rom: Seks religioner på vandring', Oslo Museum.