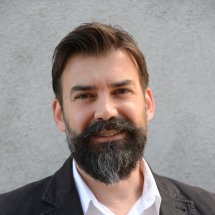 Victor Ghica
Professor
Antiquity and Early Christian Studies
Office: 478E
Phone number: 22590577
Professional competence areas:
Late antique archaeology
Coptic papyrology and epigraphy
Ancient North Arabian Epigraphy
Christianity in the Western and Eastern Deserts of Egypt
Early Christian and Gnostic texts
Copto-Arabic literature
Syriac literature
Material culture of 4th century Christianity
I joined the MF University as Professor of Antiquity and Early Christian Studies in 2015, prior to which I held a tenured lectureship at the Department of Ancient History of Macquarie University, in Sydney. Early career research and teaching appointments included positions at the French Institute of Oriental Archaeology (Cairo) and Université Laval (Quebec City).
My research interests span several fields relating to Late Antiquity and Early Christianity, from archaeology (particularly Egypt and Dalmatia), to languages (mainly Coptic, Old Egyptian, Arabic, Syriac, Ancient North Arabian), epigraphy, papyrology, etc. Over the last twenty years, I have been leading several archaeological projects on behalf of the French Institute of Oriental Archaeology. Since 2014, I direct also the excavations at Bribir, in Croatia. I am currently the PI of the ERC-funded research project DEChriM and I lead the excavations at Dush (Kharga Oasis) and Tell Ganub Qasr al-Aguz (Bahriyya Oasis), and co-direct those at Shams al-Din, Dayr Mustafa Kashif and Ayn Gallal (Kharga Oasis).
Latest academic publications
Research projects
Education and practice

2015 - d.d.
Ph.D. supervisor, Department of Ancient History, Macquarie University (Sydney)

2015 - d.d.
Professor of Antiquity and Early Christian Studies, MF vitenskapelig høyskole

2011 - 2014
Lecturer, Department of Ancient History, Macquarie University (Sydney)

2009 - 2010
Associate lecturer, Department of Ancient History, Macquarie University (Sydney)

2005 - 2009
Post-doctoral research fellow, Institut français d'archéologie orientale (Cairo)

2003 - 2005
Research and teaching assistant, Université Laval (Québec)

2000 - 2006
Ph.D. in Theology, Université Laval (Québec)

2000 - 2006
Doctorate in Religious Sciences, École pratique des hautes études, Section des sciences religieuses (Paris)

2000 - 2003
Editor, Institut français d'archéologie orientale (Cairo)

1999 - 2000
M.A. in Religious Sciences, École pratique des hautes études, Section des sciences religieuses (Paris)

1999
Diploma of Literary Arabic, Université "La Sorbonne nouvelle" (Paris III), Institut d'études arabes et islamiques

1998
Certificate of Literary Arabic, Université "La Sorbonne nouvelle" (Paris III), Institut d'études arabes et islamiques

1997 - 1999
B.A. in Arabic and Islamic Studies, Pontificium Institutum Studiorum Arabicorum et Islamisticae (Rome)

1996 - 2002
Licentiate in Ancient Near Eastern Studies, Pontificium Institutum Biblicum (Rome)

1992 - 1996
B.A.Hons., Universitatea Bucuresti
Voluntary position

2022 - d.d.
Director of the archaeological excavations of Dush (Kharga Oasis, Egypt)

2021 - d.d.
Co-director of the Norwegian-Egyptian Mission in Kharga Oasis and of the excavations at Dayr Mustafa Kashif, Shams al-Din and Ayn Gallal

2019 - 2025
Principal investigator of the ERC-COG project "Deconstructing Early Christian Metanarratives: Fourth-Century Egyptian Christianity in the Light of Material Evidence" (DEChriM)

2017 - 2021
Director of the research programme "Culture matérielle du christianisme égyptien" (Institut français d'archéologie orientale)

2016 - 2019
Coordinator of the MPhil programme in History of Religions, MF vitenskapelig høyskole

2014 - d.d.
Field director of the archaeological excavations of Bribir (Croatia); co-director of "Varvaria-Breberium-Bribir Archaeological Project"

2014
Coordinator of the MA programme in Ancient History, Macquarie University (Sydney)

2012 - 2014
Coordinator of the programmes in Coptic Studies (MA, GradCert, PhD), Macquarie University (Sydney)

2011 - 2016
Director of the research programme "Le christianisme des déserts égyptiens" (Institut français d'archéologie orientale)

2011 - d.d.
Member of the editorial board of the series Texts and Studies in Eastern Christianity (Brill)

2009 - d.d.
Director of the archaeological excavations of Tell Ganub Qasr al-'Aguz (Bahriyya Oasis, Egypt)

2005 - 2010
Director of the research programme "Chrétiens d'Égypte dans le désert Occidental" (Institut français d'archéologie orientale)