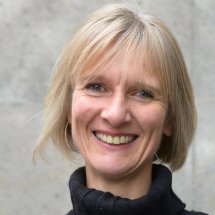 Claudia Lenz
Professor
Social Science - Chair for prevention of racism and antisemitism
Office: 329
Phone number: 22590629
Professional competence areas:
Education for Democratic Citizenship
history didactics
prevention of prejudice and group focused enmity
I am trained as a philosopher and political scientist from the University of Hamburg.
My main areas of work and research are
memory culture, history politics and historical consciousness
prejudice /prevention of prejudice
democracy and citizenship in school
In the field of history didactics, I am concerned with how memory and past work contribute to the development and negotiation of identity, participation and power relations at individual and group level.
My second field of research deals with prejudice, othering mechanisms, and how prejudice and group hostility are combated at different societal levels.
I am particularly interested in how the school can prevent racism and other forms for group focused enmity, and have been involved in building the Dembra project (http://www.dembra.no ). Currently, I am the head of Dembra for teacher educators.
Since 2009 I have been involved in the Council of Europe's work in democracy and human rights education, where I have contributed to develop the reference framework "Competences for a Democratic Culture".
Current research: attitudes towards Jews and Muslims among Norwegian Youth (affiliated with the HL Center)
Latest academic publications
Research projects
Education and practice

2016
Seniorforsker (II stilling) hl-senteret (siden 2018: forsker I.)

2013
Førsteamanuensis (II-stilling) program for lærerutdanning/NTNU

2009
Forskningsleder Det Europeiske Wergelandsenteret

2007
Seniorforsker "Reflective historical consciousness in Norway and Germany" (Marie Curie stipentiat)

2002
Forsker i prosjektet "Traditions of historical consciousness"

2002
Doktorgrad i statsvitenskap

1996
Studiet i filosofi, psykologi og statsvitenskap
Voluntary position

2018
Lead expert to the Council of Europe's Network of Policy Advisors

2017
Member of the NECE advisory board (Networking European Citizenship Educators)