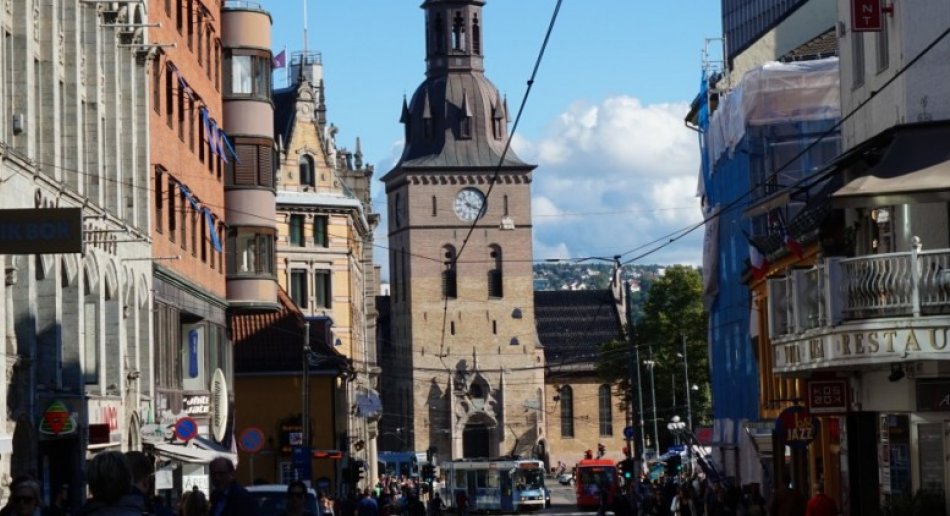 Duration: 3 years
Credits: 180
Language: English
Bachelor in Theology, Religion and Society
PLEASE NOTE: The Bachelor in Theology, Religion and Society will no longer accept new students.
MF offers a bachelor's programme in Christian theology and the study of religion and society.
The Bachelor in Theology, Religion and Society (BTRS) programme equips students to understand, reflect on and engage with theological, religious and social issues in the contemporary world.
We aim to give you a solid understanding of the Christian theological tradition and how it is used to make sense of the world today, to develop your knowledge of religious and social phenomena in the world, and to encourage the exploration of the relationship between theology, religion and society at the academic level.
BTRS is designed to give you a strong foundation of knowledge in Christian theology and tradition. Building upon this foundation, you will be offered courses in religious studies and the social sciences, designed to widen your understanding of the way academics work with topics related to religion. Upper-level courses combine different aspects of these three core disciplines and offer you a variety of themes and perspectives on how religion and theology function in society.
During the course of the programme you will be challenged to reflect on your own beliefs and convictions, assess and evaluate historical and contemporary issues, and develop your own opinions on a wide range of topics. 
Our fields of research:
Biblical Studies and Classical Languages
History of Religion and Religious Studies
Systematic Theology
Practical Theology
Politics and Society
Admission requirements

Applicants have to meet the general admission requirements (except proficiency in Norwegian) in order to be eligible for admission. General admission requirements are described in the GSU-list.

Note that MF requires a higher level of English proficiency than the GSU list, equivalent to grade 4 in Norwegian upper secondary school.

Applicants who meet the admission requirements will be ranked according to their academic level. Applicants from the Philippines will be ranked according to University grades, applicants from most other countries will be ranked according to High school grades, in accordance with guidelines given by NOKUT (the Norwegian Agency for Quality Assurance in Education).

For more information about how to apply, please see https://www.mf.no/en/node/31
Programme structure

6.sem.
TEOL2735
Biblical Exegesis
(10 stp)
TEOL2750
Current issues in theology, religion, and society (10stp)
SAM2075
Global perspectives (10stp)
5.sem.
TEOL2790
Constructive Theology (10stp)
TEOL2650
Church in Society - for the transformation of the world
(10 stp)
SAM2230
Genocide and Religion
(10 stp)
4.sem.
TEOL2725
Methods and Tools for Biblical Interpretation
(10 stp)
TEOL2640
Church in the World: Denominations and Ecumenism
(10 stp)
RL2012
Judaism and Islam (10stp)
3.sem.
SAM2085
Power and resistance (10stp)
TEOL1610
Introduction to Contemporary Mission Studies
(10 stp)
RL1012
Introduction to Religious Studies and Hinduism and Buddhism
(10 stp)
2.sem.
TEOL1410
Introduction to the History of Christianity
(10 stp)
SAM1210
Introduction to the Social Sciences
(10 stp)
EX1011
Examen philosophicum
(10 stp)
1.sem.
TEOL1715
Introduction to the Bible
(10 stp)
TEOL1415
Introduction to Systematic Theology
(10 stp)
EX1022
Examen facultatum: Critical Thinking and Academic Writing
(10 stp)
Semester.
10 ECTS
10 ECTS
10 ECTS
Programme description

To receive a Bachelors in Theology, Religion, and Society, the following criteria must be met:

80 ECTS in Christian Studies/Theology (Codes TEOL and KRL(E) or equivalent. Of these 80 ECTS, there are four 10-ECTS core courses: TEOL1715, TEOL1415, TEOL1410 and TEOL1610.
At least 30 ECTS of the remaining courses must be at the 2000 level or equivalent.

20 ECTS preparatory courses: EX1011 and EX1022.

30 ECTS Social Sciences/Sociology of Religion. Of these 30 ECTS, there is one 10-ECTS core course: SAM1210. The remaining 20 ECTS must be at the 2000 level

20 ECTS Religious studies. Of these 20 ECTS, there is one 10-ECTS core course: RL1012.

The final 30 ECTS can be made up of the courses suggested in the program description, or other courses within the fields of theology, religion, and social sciences from MF or other institutions that do not overlap with program courses. Students are encouraged to study one semester abroad and incorporate that semester into their program. Courses from other institutions that may be incorporated into the degree, including courses that replace the core courses, will be evaluated on an individual basis.

In addition, at least 60 ECTS must be completed at MF for the degree to be conferred by MF
Learning outcome

Knowledge
The candidate:
- has good knowledge of central topics in the fields of theology, religion and society.
- has knowledge of Bible, Christian history and Christian traditions as they are expressed in different denominations.
- has good knowledge of how religious traditions interact with and take part in society.
- has knowledge of a wide range of theological topics and an understanding of different methods for developing and discussing theology.
- has knowledge of sociological theories and methods.
- has knowledge of a variety of religions and the study of religion as an academic discipline.

Skills
The candidate:
- can discuss and synthesize knowledge from the perspectives of theology, religious studies and the social sciences.
- can interpret and analyze historical and contemporary social and religious phenomena.
- can find and use relevant theories to interpret social and religious practices.
- can reflect on their own and others' academic work.
- can interpret biblical texts from a variety of theoretical perspectives.
- can analyze and discuss theological issues from historical, biblical and contemporary perspectives.

General Competencies
The candidate:
- can reflect on and express their own perspectives and opinions on topics related to faith, religion and social issues.
- can work independently and form arguments based on the systematic analysis of material.
- can write academic essays using scholarly literature and can reference literature correctly.

Bachelor of Theology, Religion and Society.
Exchange programme

MF has exchange agreements with several partner universities. You can find more information about exchange opportunities for your study programme on this page.

As a BTRS student, you are encouraged to explore the possibility of a semester abroad at one of our partner institutions. A semester abroad will give you the opportunity to engage in issues in a different context and will contribute to an even richer education.

You can choose to study abroad during any semester of your second or third year. Be sure to plan well in advance in order to secure a spot, preferably one year in advance of the exchange.
Further studies and career opportunities

Students who complete the Bachelor in Theology program will be qualified for further studies at the Masters level in theology and religion, including all English language Master's degrees at MF - Norwegian School of Theology.

Students will be equipped for service in a wide range of settings within church and society, in a variety of work or volunteer positions. Students are especially prepared to work in churches or organizations dealing with social issues around the globe.